Popular items

LED Dog Tag with Scrolling Red Text
---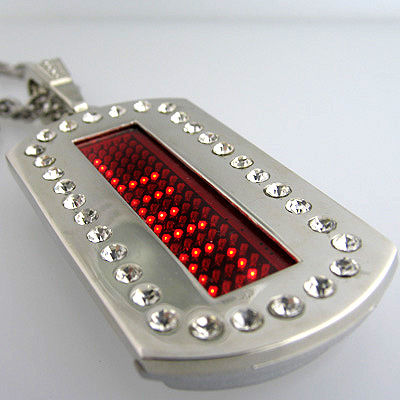 Get your own
LED Dog Tag with Scrolling Red Text!
Every iced out wardrobe needs to contain a bling dog tag. And there is no better way then to have a Iced Out Dog Tag with scrolling red text. These LED dog tags allow you to totally customize it to say whatever you want. Use you favorite phrase, your name or your group. Whatever you want, the LED dog tag can help you show it off.
The scrolling text LED dog tag is iced out for sure. With bling all the way around the LED screen you are sure to set the party on its feet. When it comes to dog tags, we got you covered with the hottest hip hop jewelry you will find anywhere. If the red text isn't your style, make sure to check out our Scrolling Blue Text LED Dog Tag and get your pimp on that way. No matter which LED dog tag you choose, you are sure to make all your friend's jaws drop when they see you all iced out from your LED dog tag with scrolling red text!
Messages scroll from bottom to top.
Measures 1.5" by 2.5"
LED Dog Tag with Scrolling Red Text
---
Let others know that you want this item:
---
All personal information you submit is encrypted and 100% secure