Popular items

Scrolling Blue Text LED Dog Tag
---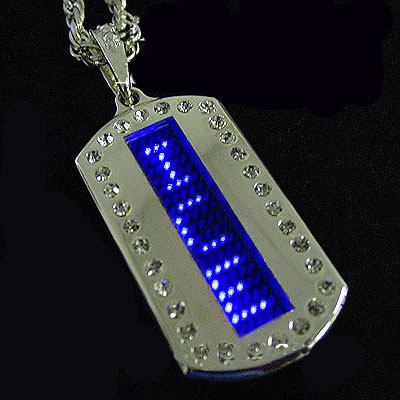 Get your own
Scrolling Blue Text LED Dog Tag !
It's no joke, we got all the bling dog tags and at crazy prices. You need to have an Iced Out Dog Tag with scrolling text. These are the hottest hip hop jewelry item right now because you can totally customize these dog tags to say whatever you want. Make it fit your personal playa style
If the scrolling blue text isn't your thing check out our LED Dog Tag with Scrolling Red Text. I know you have seen people wearing those stock dog tags like they are the baddest. But wait till you see their face when you show up with your custom Scrolling Blue Text LED Dog Tag. They won't believe its true. Then when they see your custom message scrolling across the LED screen on your dog tag...it's game over. These LED dog tags are hot right now. Don't let anyone beat you to it, order your Scrolling Blue Text LED Dog Tag.
Messages scroll from bottom to top.
Measures 1.5" by 2.5"
Scrolling Blue Text LED Dog Tag
---
Let others know that you want this item:
---
All personal information you submit is encrypted and 100% secure