Popular items

3 Letter Silver Custom Name Belt Buckle
---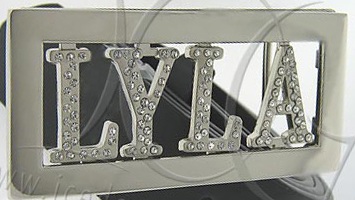 Order your 3 Letter
Silver Custom Name Belt Buckle
now.
You get to choose any 3 letters that you would like for your custom name buckle. Each letter is iced out like Alaska and looks great on the plain silver frame buckle. Choose any 3 letters that you want and we will throw them on the buckle for you.
Our iced out custom name belt buckles are true playa material. Are you still wearing a plain our belt? Dude, it's time to step your game up to the next level and order up a customized name belt and start showing off your own personal syle. Because these custom belt buckles are customized to your specific wishes. Just choose any 3 letters that you want and will put it together for you and send it off. It a couple days you will be crip walking across the dance floor with everyone staring at your new iced out name belt buckle with the mad bling bling.
This particular belt buckle comes with a plain silver frame and each letter your order comes with iced out jewels. So you are gettin a plain frame and iced out letters. You can put up to 3 letters on this custom name plate belt buckle. If you want more than 3 letters you should check out our 7 letter silver custom name belt. Or if you don't a plain silver buckle and you are a bling aholic and want an iced out name belt frame and bling letters you may want to take a look at our custom name belt thats iced out.
Stop messing with those lame belts and start showing off your baller status with a silver custom name belt buckle with your choice of 3 letters.
3 Letter Silver Custom Name Belt Buckle
---
Let others know that you want this item:
---
All personal information you submit is encrypted and 100% secure