Popular items
Pink LED Scrolling Belt Buckle
---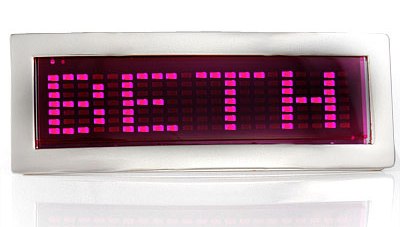 Get Your
Pink LED Scrolling Belt Buckle
The Pink LED Silver Belt Buckle let's you program in your own personal message that will be scrolled across the belt buckle screen. It has a silver face plate and feature pink scrolling text. The Pink LED buckle allows you to program in up to 6 messages and each message can have up to 512 characters.
The LED belt buckle with pink scrolling text measures 5.5 inches wide and 2 inches tall. It comes with batteries and is ready to be programmed with your own custom message. The LED screen can scroll your messages from left to right, up and down or blink.
The Pink LED belt buckle is a sure way to attract a ton of attention and be the hottest cat on your block. Don't wait any longer and be the first person to have your own LED belt buckle with Pink scrolling text.

Pink LED Scrolling Belt Buckle
---
Let others know that you want this item:
---
All personal information you submit is encrypted and 100% secure