Popular items
Pink Diamond Gold Grillz
---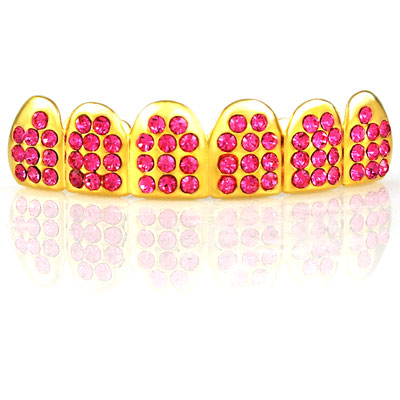 Get your
Pink Diamond Gold Grillz
today. These grillz are gold color with Pink Austrian Crystals. These pink grillz can be worn on the top or bottom teeth and do not require a mold.
Our pink diamond gold grillz are iced out with plenty of pink bling stones to get everyone looking at you. They come with a custom flex bar so they will fit any type of teeth with no problem.
Disclaimer: These grillz are for entertainment purposes only and should not be worn as a dental device and should never be worm when eating, sleeping or as a replacement for natural teeth. They are sold as is, with no warranty and MyHipHopBling.com is not liable for any damages that may arise from wearing them.

Pink Diamond Gold Grillz
---
Let others know that you want this item:
---
All personal information you submit is encrypted and 100% secure