Popular items

LED Scrolling Belt Buckle - Iced Out Red
---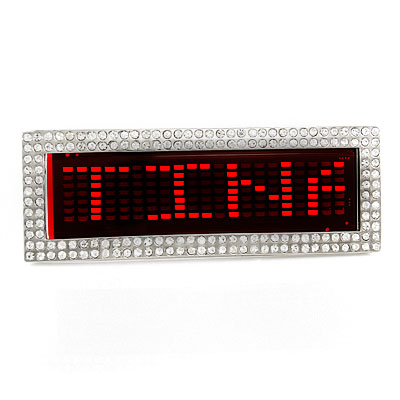 Get Your Iced Out
LED Scrolling Belt Buckle
- Red
Our LED Iced Out Belt Buckle with scrolling red text let's you customize your belt buckle to whatever you would like it to say. It comes with an iced out bling around the LED display and has a red scrolling LED programmable display. You can program up to 6 messages with 256 characters per message.
The Iced Out LED Scrolling Belt Buckle with red text is one of our hottest products right now and everyone wants to be shinning with a custom belt buckle. Make sure and get your LED belt buckle with scrolling text before someone else does. This item is sure to set the club on fire and make everyone's jaw drop.
Features:
- Scrolling text goes left to right, up and down and blinks your personal message
* Measures 5.5" by 2"
Get your LED scrolling belt buckle now and be the #1 stunna of every party you go to.
LED Scrolling Belt Buckle - Iced Out Red
---
Let others know that you want this item:
---
All personal information you submit is encrypted and 100% secure