Popular items
Blue Stone Gold Grillz
---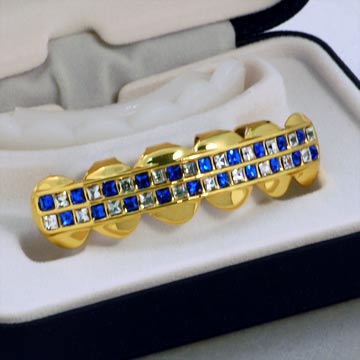 Our
Blue Stone Gold Grillz
come in gold color with two rows of alternating blue and clear stones. These grillz can be worn on the top or bottom teeth and do not require a mold.
These iced out grillz have plenty of bling to make them shine like crazy. The blue stones give them a very unique look that really makes them stand out. Order up your own pair of Blue Stone Gold Grillz today.
*Disclaimer: These grillz are for entertainment purposes only and should not be worn as a dental device or for eating or sleeping. Our Grillz are sold as it is without warranties of any kind. MyHipHopBling.com will not be liable for any damages of any kind arising from the use of these grillz.

Blue Stone Gold Grillz
---
Let others know that you want this item:
---