Popular items
Black Stone Gold Grillz
---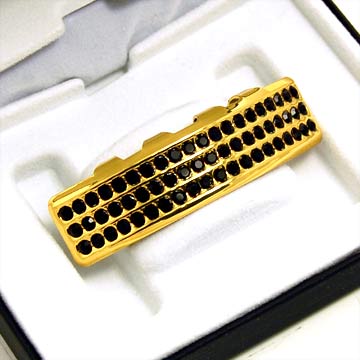 Our
Black Stone Gold Grillz
are gold plated with 3 rows of black stones. These grillz are one size fits all and can be worn on the top or bottom teeth. They come with a flexible silicon bar for easy molding and to make sure they fit teeth arrangement.
These iced out gold grillz have plenty of bling and the unique black stones really sets them apart from all of the other grillz out there. If you are looking for a real show stopper then you need to get a pair of our black stone grillz. Or get two pair and wear them on your top and bottom teeth!
*Disclaimer: These grillz are for entertainment purposes only and should not be worn as a dental device or for eating or sleeping. Our Grillz are sold as it is without warranties of any kind. MyHipHopBling.com will not be liable for any damages of any kind arising from the use of these grillz.

Black Stone Gold Grillz
---
Let others know that you want this item:
---